Legal Fund/Fondo Legal
Servicios Legales Para Miembros Elegibles De UNITE HERE Local 11
Hadsell Stormer Renick & Dai LLP proporciona un amplio alcance de servicios legales a los miembros elegibles de UNITE HERE Local 11, a través de un fondo legal establecido por los contratos negociados por el sindicato con algunos empleadores. A través del fondo, los trabajadores elegibles y sus dependientes recibirán asistencia legal con asuntos especificados en varias áreas, incluyendo inmigración, bancarrota y el derecho de familia.
Lo que debe saber:
El único costo para usted es ½ de las tasas de tramitación. El fondo paga la otra ½ de las tasas de presentación y el costo total de los servicios jurídicos
No hay límite al número de asuntos abiertos que un miembro elegible puede tener. Si se necesita asistencia legal para múltiples asuntos, se le proporcionará.
Muchas personas se aprovechan de los que no conocen sus derechos legales o no pueden permitirse la representación legal cuando lo necesitan. Nuestra empresa se ha comprometido a proporcionar el más alto nivel de los servicios jurídicos, así como educar a los trabajadores sobre sus derechos básicos en cada una de estas áreas del derecho.
La descripcion resumida del plan.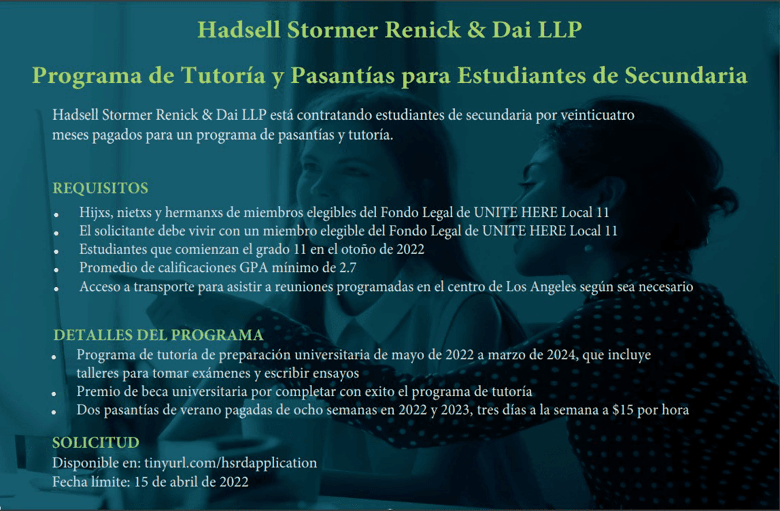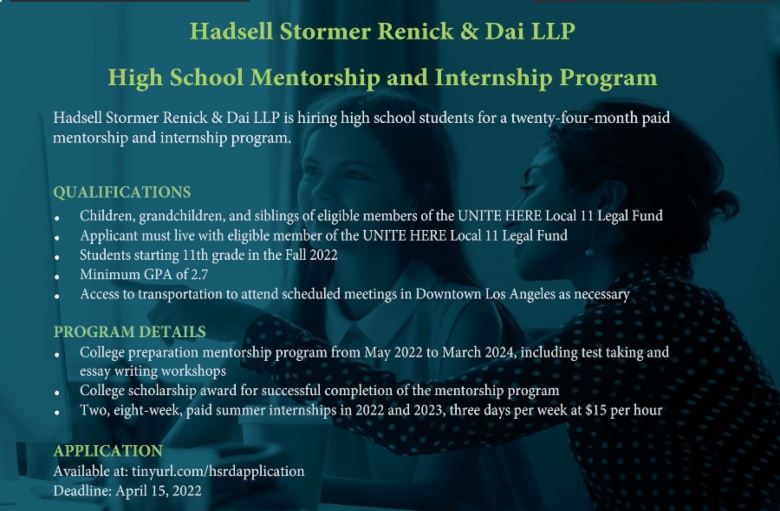 Legal Services For Eligible Members Of UNITE HERE Local 11
Hadsell Stormer Renick & Dai LLP, provides a broad range of legal services to eligible members of UNITE HERE Local 11 through a legal fund established by contracts negotiated by the union with certain employers. Through the fund, eligible workers and their dependents will receive legal assistance with specified matters in several areas, including immigration, bankruptcy and family law.
Important things to know:
The only cost to you is half of any filing fees. The fund pays the other half of the filing fees and the entire cost of the legal services.
There is no limit to the number of open matters an eligible member may have. If legal assistance is needed for multiple matters, it will be provided.
Many people are taken advantage of because they do not know their legal rights or cannot afford legal representation when they need it. Our firm is committed to both providing the highest level of legal services and educating workers regarding their basic rights in each of these areas of law.
For a complete explanation of eligibility and services, please review the Summary Plan Description.
Contact Us Today
Call Hadsell Stormer Renick & Dai LLP at (626) 775-7870 or fill out the form below.